How Rhode Island Brain Injury Lawyers or Massachusetts Brain Injury Attorneys Can Help
In Massachusetts and Rhode Island, like the rest of the country, brain injuries are becoming increasingly common. Medical researchers are discovering that things like low-speed bicycle crashes, impact sports, auto accidents and slips and falls cause more brain injuries than previously thought. This is where you may need to call one of our Massachusetts or Rhode Island brain injury attorneys.
Quick Contact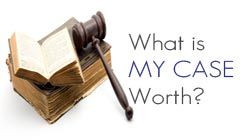 If You've Suffered a Traumatic Brain Injury (TBI) in RI, MA or Cape Cod – regardless of cause, brain injuries can have dramatic results. You should call an MA Cape Cod RI brain injury lawyer as soon as possible to make sure your rights remain intact.
The insurance companies do not have your best interests at heart; an RI/MA brain injury lawyer at the Kevin P Landry Law Offices will stand up to the insurance companies to bring you the justice and compensation you deserve.
What to Expect from Massachusetts Rhode Island Brain Injury Attorneys
An MA RI brain injury lawyer will visit you at home, in your hospital room or in one of our eighteen Rhode Island and Massachusetts locations. Your brain injury lawyer will inquire as to:
How you received your brain injury – whether your brain injury has caused you to miss work, school or other obligations, or whether you're suffering from symptoms such as paralysis, speech impairment, depression, mood changes or memory problems, our Massachusetts and Rhode Island brain injury lawyers' primary concern is your health and well-being.
Your initial consultation with a brain injury lawyer at the Kevin P Landry Law Offices, is completely free. And if you take us on as your brain injury lawyers, we only are paid when you are paid, so all the risk is on us.
Rhode Island or Massachusetts: Our Brain Injury Attorneys are Here to Serve You
Whether your brain injury case belongs in Rhode Island or Massachusetts, the expert brain injury lawyers at Kevin P Landry Law Offices are able to work with you to get you the justice you deserve. Call (800)-200-7752 or fill out our contact form to get a free consultation.