Practice Areas
Locations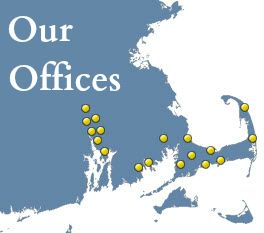 Our 18 offices in Massachusetts and Rhode Island make scheduling your first meeting with us simple and easy. Click on the above map to find the nearest and most convenient location for you.
We routinely visit clients at their homes, and in hospitals. Consultations are always 100% free of charge. Contact us today to learn how we can help you.
Cape Cod, Massachusetts and Rhode Island Personal Injury Lawyers Helping Our Clients Obtain Verdicts & Settlements Worth Millions
Welcome to The Kevin P Landry Law Offices. We are Massachusetts, Cape Cod and Rhode Island personal injury lawyers dedicated to serving you in your most challenging time of need. We handle a wide range of personal injury matters, from car accidents, wrongful death claims, motorcycle accidents, bicycle accidents, pedestrian accidents, boating accidents, and medical malpractice and slip and fall injuries. We also help our clients with dog bite injuries, workers compensation, brain injuries, fractures and nursing home injuries.
We Take Care of Your Accident Claim So You Get Back to Health
When the emotional and physical toll of an accident makes you feel desperate and feeling helpless, it's our job to take care of your claim so you can recover in peace. It's difficult enough to recover when medical bills are mounting up, work absences are threatening your ability to earn a living and confronting insurance companies who want to pay you as little as possible.
At The Kevin P Landry Law Offices, we understand the emotional strain an accident can cause – especially when the injuries you sustained are due to the fault of another. We aggressively pursue the best course of action to fight for your rights in order to receive a settlement in the maximum amount to alleviate your suffering. We seek the full monetary compensation that is entitled to you by law, including monies for medical bills, wages missed as well as emotional pain and suffering.
Our practice areas include claims related to every kind of personal injury. As Cape Cod, Massachusetts and Rhode Island personal injury attorneys, we know how to investigate and settle the following types of personal injury:

No matter what kind of accident, our team of highly trained, highly skilled Cape Cod, Massachusetts and Rhode Island personal injury lawyers will focus all of their energy and effort on exploring every angle possible to settle and resolve your claim. This means we will work tirelessly in exploring every angle to gather the evidence you need to get the compensation you deserve for your injuries. If your case cannot be settled out of court, we will prepare to take your case to court if necessary in order to recover the damages you are owed.
Why Choose The Kevin P Landry Law Offices?
In order to claim the damages owed to you due to a serious injury, you need the expertise and proven track record of the personal injury law team with over 21 years of experience and success in settling every type of personal injury case. Our Cape Cod, Massachusetts and Rhode Island personal injury attorneys have the skills, experience and track record of successful settlements in an extremely broad span of personal injury accident claims. We quickly assess your situation, gather initial evidence and state your case, while pursuing every possible strategy to help bring you the justice and the compensation you deserve.
Compassionate, Yet Aggressive Personal Injury Legal Services
Regardless of the type of accident you've suffered, our specialty is showing compassion for you, the victim - while providing personalized service to make you feel comfortable and safe. In doing so, we will do all of the following for you:
Listen to you and fully comprehend your needs


Explained to you the relevant personal injury laws which apply to your situation


Take you step-by-step through the entire process of pursuing your personal injury claim


Offer you well-informed and intelligent personal injury legal advice so you can make the right decision for you and your family


Communicate with you openly and effectively, returning phone calls and communication promptly and courteously


Make your personal injury law experience comfortable as well as convenient by visiting you in your home, office or hospital bed


We Will Fight On Your Behalf to Win Your Case Leaving No Stone Unturned
No personal injury lawyer will work more diligently in representing you. As evidenced by the long list below we will quickly assess your case to make sure the following occurs:


Protect: Make certain you are getting the best medical treatment to fully recover from your injuries


Investigate: By investigating your claim and help to educate you on the role of personal injury attorney and how we may be a will that help your case. At this time we also will include any applicable deadlines and lay out a plan of attack.


Contact: We contact every insurance company who's responsible for the claim on your behalf. In this conversation, we notify the insurance company that you are being represented by our firm and therefore all communication should go directly to us.


Gather: Gathering the necessary documentation, including police reports, medical records or even eyewitness accounts, as well as any outstanding medical bills is critical to the success of your claim. We do it with little intervention from you.


Analyze: Your insurance policy is complex – as is the other party's. By analyzing all aspects of the case, we can quickly determine the amount of coverage that may or may not apply. This coverage may include coverage for outstanding medical bills, and/or property damage bills as well. To protect you from litigation in the future, we'll also make recommendations for enhancements in your insurance coverage to protect you in the future.


Interview: Witnesses that may have witnessed the accident itself are a strong ally for you in your case. We interview anyone and everyone who could potentially assist you in a successful resolution of your case.


Collect: Information such as photographs of the accident scene, diagrams from the police report and any other pertinent evidence that may assist your claim need to be collected and scrutinized for any possible bits of evidence which may help your claim.


Review: Your medical records are vitally important to your case. We may even request an interview with your physician to clarify certain facts surrounding your injury and your treatment. This will help us to fully understand your medical condition and clear up any inconsistencies between reports and other information we gather.


Analyze: Your health insurance policy and benefit plan – as well as that of the other party is important to understand in order to determine if any money already paid on medical bills should be reimbursed by insurance.


Prepare: We prepare what's known as a "demand package", which is to be submitted to the insurance company. This package contains information on the injury, your long-term prognosis, any outstanding medical bills, any lost wages and long-term treatment plans with medical prognosis. It's an essential packet of information that must be carefully prepared to make sure your case is best represented.


Decide: Whether a settlement or a lawsuit should be pursued, we decide on your behalf. If the case needs to go to court, we then prepare witnesses, testimonies, and may even take depositions from healthcare providers, or other medical specialists.


Depose: Questioning of the parties involved including the defendant, medical staff and witnesses or other individuals who may have an impact on the case is a critical piece to the puzzle of personal injury law resolution. We do it all behind the scenes to best represent you and your interests.


Appear: If necessary, we then appear in court and set the date for trial.


Formulate: Next we formulate our strategy for the trial and also prepare for potential arbitration and/or settlement which oftentimes occurs right before the trial.


Coach: As a part of pre-trial prep, we prepare and coach you as well as any witnesses for the trial.


Organize: We complete any medical exhibits or demonstrative exhibits that may be pertinent to the trial.


File: At this point, we may need to file briefs and motions with the court so as to eliminate any potential surprises at the trial itself.


Try: If the case makes it to court – although this rarely occurs – we try the case using all of our experience and knowledge from our exhaustive prep work, so that you win the case and get the justice you so rightfully deserve.


Analyze: When the verdict comes in, we analyze and determine whether or not there's cause for appeal.

Cape Cod, MA & Rhode Island Personal Injury Lawyers Who Get You The Compensation You Deserve
Our Cape Cod, Massachusetts and Rhode Island personal injury lawyers are highly experienced professionals who have a long track record of success for our clients. We do this by preparing exhaustively to represent you as best as possible – this has led to our long track record of protecting clients' rights - while getting them the compensation they deserve. Our personal injury law firm has developed a strong reputation for getting outstanding results with hundreds of satisfied clients.
With offices all over Southeastern Massachusetts, Cape Cod and Rhode Island, our personal injury lawyers have been proudly serving these states for over twenty-one years – getting them the justice they deserve with compassion and skill. Call us at 1-800-200-7752 or go online to schedule a free initial consultation.